Fourth Annual South Asian Human Rights Film Festival
October 26
15 Park Avenue
Director: Aparna Sen
(116 minutes, 2005, India)
Award-winning director Aparna Sen delivers a moving and insightful exploration of the impact of schizophrenia on a young woman and her family in today's Calcutta. Sen elicits powerful performances from a celebrated cast including Shabana Azmi, Waheeda Rehman, Soumitra Chatterjee, Rahul Bose and Konkona Sen Sharma as Meethi. The narrative pivots around the relationship of two sisters, older sister Anjali (Shabana Azmi) is a successful professor with a powerful personality. Anjali is the anchor for her family and main caregiver for her sister Meethi whose progression into schizophrenia has been exacerbated by traumatic experiences. Anjali has always dominated the life of her attractive younger sister, and jealously warded off Meethi's handsome fiancé Jojo (Rahul Bose) with fear of Meethi's impending illness. Years later when Meethi and Anjali are on holiday in the Hills there is a chance meeting with Jojo, now with his new wife and children. He is shocked to discover that Meethi no longer recognizes him, but lives in a world visited by an imaginary husband and children of her own.
Friday, October 27, 7 p.m.
Sancharram, The Journey
Director: Ligy J. Pullapally (107 minutes, 2004, India)
Set in the lush, rural Kerala, Ligy J. Pullappally's lyrical, lesbian-themed story covers territory rarely visited by Malayalam filmmakers. The Journey begins with the childhood friendship between beautiful, outgoing Delilah, a Christian girl, and the sober, idealistic, and inwardly focused Kiran, whose Nair family settles next door. They quickly become inseparable, and in time Kiran feels attracted to Delilah, but suppresses it. She finds a Cyrano de Bergerac-like outlet by writing love letters to Delilah for Rajan, a local boy pursuing her. When Delilah learns the truth about the letters, she responds—to Kiran. As neighbors begin to talk, Delilah's family flies into panic mode with arranged marriage plans. Meanwhile Kiran fights back, leaving Delilah in the middle of a tug of war. Nicely sketching the local color, customs and characters in a primarily maternal society, Pullappally achieves a piquancy that deepens a sensitively drawn story.
Saturday, October 28
Communities in Conflict:
Lanka – The Other Side of War and Peace
Director: Iffat Fatima
(75 minutes, 2005, Sri Lanka)
On February 22, 2002, after more than 20 years of fighting the Liberation Tigers of Tamil, Eelam and the Government of Sri Lanka signed a ceasefire agreement. Soon after the A9 highway that links north and south Sri Lanka, and had been closed for 12 years, was opened to civilian traffic. The opening, which became a symbol of the hope for peace in Sri Lanka, is the starting point for the film. Structured as a travelogue, the film traverses the northern and southern landscape of Sri Lanka. As it shifts between north and south, it spans the history of last three decades of brutal violence in Sri Lanka juxtaposing the multiple realities of war and peace, and loss and survival, which simultaneously exist here.
Karnaphulir Kanna (Teardrops of Karnaphulir)
Director: Tanvir Mokammel
(60 minutes, 2005, Bangladesh)
The Chittagong Hill Tracts (CHT) in the south-west of Bangladesh, bordering Myanmar and India, includes three districts, and is home to twelve predominantly Buddhist ethnic groups who are collectively known as the "Jumma" nation.  The construction of a dam on the Karnaphuli River in the early 1960s displaced 100,000 Jumma residents and submerged 54,000 acres of arable land.  In 1979, the government resettled Bengalis in the area, inciting incidents of gross human rights violations.  Despite a 1997 peace accord, the area remains one of the most unstable and impoverished in the nation. The film explores the agonies of those living in the CHT and reminds us of what can happen when people are poor and disenfranchised.
Defining Human Rights:
A Human Question
Director: T. Jayshree
(53 minutes, 2005, India/Italy/U.S.)
This documentary forces us to rethink the relationship between intellectual property and human rights as it traces the story of the global struggle to make HIV/AIDS drugs more affordable and available. The film explores the complex world of patents and HIV/AIDS medicines by connecting and contrasting personal narratives with those of international lobbyists and activists.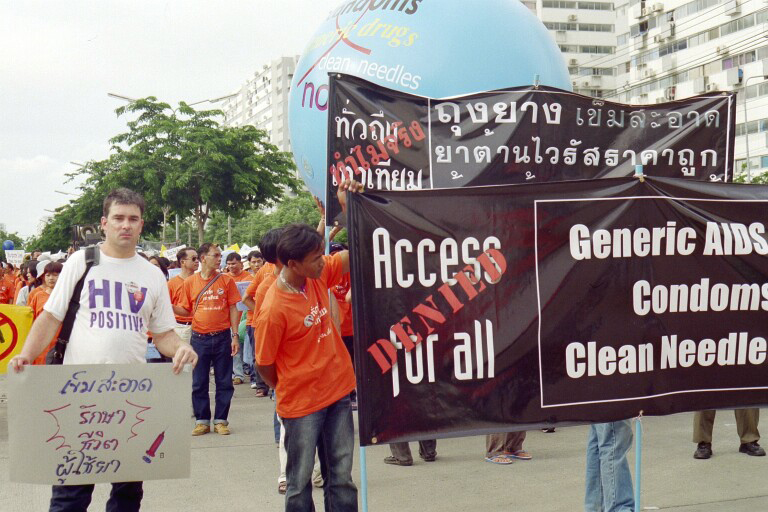 Delhi—Mumbai—Delhi (2005)
Director: Saba Dewan
(63 minutes, 2005, India)
Riya dances in the beer bars of Mumbai to make a living. The documentary follows her from her home in Delhi to Mumbai where hundreds of working class girls come in search of work. The film is an intimate portrait of the everyday life of the girls, their agents and their neighborhoods, which interweaves stories of gender, labor, sexuality and popular culture within an increasingly globalizing economy.
Iqbal: The Rampur Express
Director: Nagesh Kukunoor
(126 minutes, 2005, India)
Iqbal, a deaf and mute village boy, has a dream to play for the prestigious Indian Cricket Team. Unable to attend vocational school, Iqbal spends his time caring for his father's buffalos (all of whom are named after famous cricket players), honing his natural gift for bowling at high speed, and dreaming that one day he will make the national team. Iqbal's father believes cricket is a waste of time, but his mother helps him meet a local cricket coach who accepts Iqbal into the academy. Iqbal's dream is thwarted, though, when the wealthier players complain that a poor farmer boy is stealing all their glory. Asked to leave the academy, a shattered Iqbal enlists the help of the town drunk Mohit, who was once a promising cricketer.  The journey of Iqbal and Mohit is poignant and heartwarming, as their destinies are revealed.
---